It's been a more than a month since legacy Adxstudio portals support officially ended.  Many customers and partners are still using Adxstudio Portals and yet to migrate to Dynamics 365 Portals or its short-term alternatives( Microsoft Open Source Portals, xRM Portals Community Edition).
As there are multiple Portals available, there is always a question on which one to migrate to, we currently have 4 different versions of Portals:
Dynamics 365 Portal Capabilities is the only viable long-term option, it's Dynamics 365 Online dependent and only available as Software as a Service solution. This is the version you want to be using.
Microsoft Open Source Portals is the 8.3 version of Dynamics 365 Portals, it's completely open sourced and released under MIT license. This is a one-time release and no future bug fixes, updates or patch will be provided. It is suited as a stepping version before upgrading to CRM Portals. I wouldn't recommend being on this version unless you and your team has an in-depth understanding of the Portals and can self-support.
xRM Portals Community Edition is the githubbed version of Microsoft Open Source Portals, it is hosted by KPMG Adoxio and supported by Adoxio and Portals community, This is the version for customers or Partners who need sometime before moving to Dynamics 365 online or are waiting for new releases/features on Dynamics 365 Portals. This is not an on-premises option for Dynamics Portals but a short-term interim self-hosted option.
Adxstudio Portals, Though the support for Adxstudio Portals has ended, if you happen to have a perpetual license you may continue to use the product knowing it's not supported.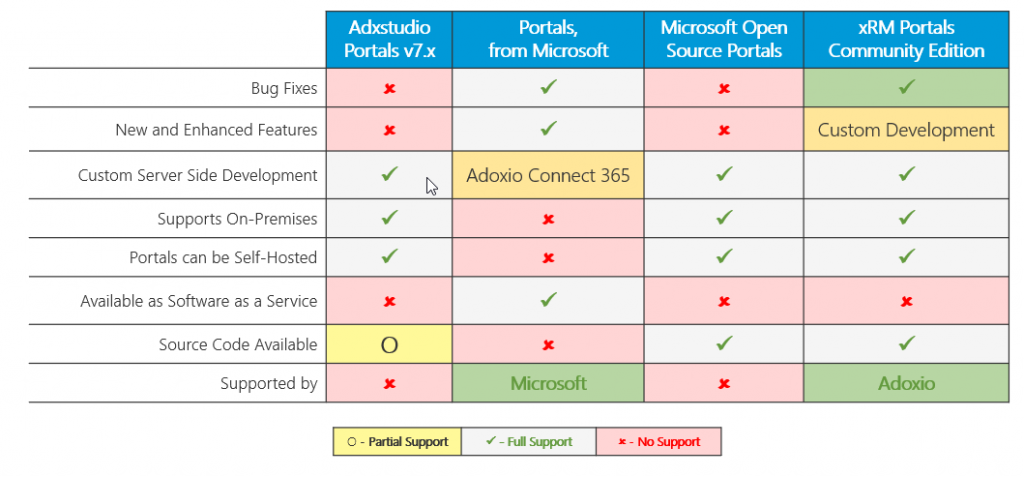 The only long-term option is to upgrade to Dynamics 365 Portals. Dynamics 365 Portals and AdxStudio Portals don't have same Portal website offering, some of the key differences are:
The Dynamics 365 Portals offering does not include "Company Portal", "Conference Portal", "Government Portal" and "Retail Portal". Microsoft Dynamics 365 Portal offering does not include Shopping cart, payments, issue management, and Service Request management as features as well. It currently does not include SharePoint Document management capabilities but it's part of October release.
The schema and structures have changed as well, Dynamics 365 Portals uses language content page for managing the page content which simplifies the structure for multi-language capabilities.
Comments and votes(Idea comment, blog comment, idea votes etc) have been replaced new entity Feedback, we also have a new entity "Portal comment".
When Migrating from Adxstudio Portals, the team needs to plan for removing any code customization, remove the dependency on unsupported features used and actual migration to SAAS model.
All the above and many other changes make it a daunting task to migrate from Adxstudio portals to Dynamics 365 Portals.Last week I presented a webinar on Migration Journey-Adxstudio Portals to Dynamics 365 Portal. In the webinar, I presented options for Adxstudio Portals and a live demo of Adxstudio Portal to Dynamics 365 Portals migration using SSIS and Kingswaysoft Packages as a tool.The SSIS packages used in the demo are available for download on Github and could be used as a Starter package for your migration project. You can watch the recording of the webcast below.
I have listed below some of the useful links to assist with migration and dealing with custom code and unsupported features from Adxstudio portals.
Portals Tool :
Liquid Templates:
Custom Code Options for Dynamics 365 Portals:
Migration Reference: