With the increasing popularity of Microsoft Flow and ease of setup quite often we start with a self-service integration using Microsoft Flow and later need to switch them to Azure Logic apps.
As Flow is built on the top of Logic Apps it's a simple export-import(Export and Deploy) process to switch them over. In this blog, we will go over converting an existing flow integration to Logic Apps Service.
I have built a Flow which is triggered when a case is created in Dynamics 365 and in turns creates a work item in Visual Studio Team services for the team to work on. As a lot of Cases are being submitted I will switch them over to Logic Apps for better monitoring.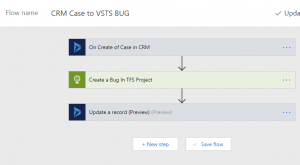 In order to migrate my first step is to export this Flow as Logic Apps from My Flow Page. Continue reading "Migrating Microsoft Flow To Azure Logic App Service"